What Makes Genesis Water Technologies Electrocoagulation Systems Different from Others?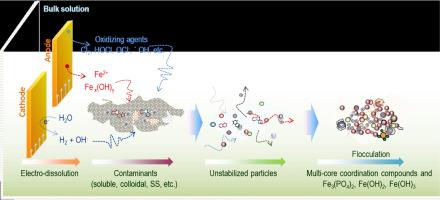 Many organizations within recent years have been moving towards sustainable non chemical treatments such as electrochemistry treatment technology due its advantages over conventional chemical treatment.
One such example of this technology is an electrocoagulation system, used in place of conventional chemical coagulation systems. This innovative treatment system, accomplishes typically better benefits versus conventional chemical coagulation systems without the added costs and side effects.
These benefits are common among the electrochemistry technology used by several water treatment companies, but we at Genesis Water Technologies, Inc. (GWT), want to offer even more to our clients when they choose to use our advanced GWT Electrocoagulation system solutions utilizing electrochemistry technology.
Here's how we do that:
Works on a Variety of Contaminants in a Variety of Industries
Our electrocoagulation system can be used in many different applications such as treating drinking water, industrial process water, and wastewater, as well as treating water for reuse. They treat for a number of contaminants including:
TSS (Total Suspended Solids)

Organics including arsenic, volatile and colloidal organic particulate including silica.

Emulsified Oils & Hydrocarbons

Heavy metals including chromium 6, fluoride, lead, among certain others.

Emulsified Fats

Bacteria, viruses, cysts, and parasites

Odor causing compounds such as hydrogen sulfide

Hardness minerals such as calcium and magnesium

Color

Chemical/biological oxygen demand (BOD/COD)
These contaminants could be found in industries from agriculture to pulp and paper to oil and gas to general manufacturing. Therefore, our electrochemistry based technology can easily be integrated within many different industries.
Our Systems are Modular
We understand that sometimes space can be an issue when implementing a water treatment system. We also know that sometimes clients will already have a treatment system process in place that they want to update or redesign. To accommodate for that, our Electrocoagulation units are modular. They do not require a large area to fit within, and they can also be retrofitted into existing treatment processes to optimize efficiency.
Achieve Greater Efficiency with Process Automation
With the aid of automation, greater efficiency can be achieved from the system. Automated systems are more reliable and accurate than manual systems and they require less labor. All in all, an automated system will help lower operational costs and allow for remote monitoring capabilities.
We Work Toward Water and Substance Reuse
While treating wastewater is a big step in the right direction, we believe that sustainability is the ultimate goal. A more sustainable system would allow for the reuse of treated wastewater, instead of simply discharging it into a stream. Reusing water would decrease costs associated with raw water purchases. Secondly, there is potential to recycle certain constituents like fats and oils for energy, or sludge for farm fertilizer.
Your Treatment Process is Optimized
To ensure that your treatment process works reliably, efficiently, and is optimized, we have established pH dosages, power supplies, and electrode materials for different applications. We research and scale test any important variables including reaction times to optimize the system and maximize the treatment results.
Our Systems are Custom Designed and Fabricated
Because we do not believe that one size fits all when it comes to water treatment, we custom design and fabricate each EC unit to meet the needs of our clients application. These systems are designed and built to fit within the client's desired operating area and to handle the specific contaminants in their wastewater stream.
We Offer Training/Commissioning & Remote Support
Our business with our clients does not conclude after the unit has been delivered. We work closely with them through our local partners or directly with clients in certain cases to offer training and commissioning to the operators as well as remote support following installation.
Genesis Water Technologies, Inc. is confident in the reliability of our electrocoagulation treatment systems as part of your water treatment process. Therefore, we do our best to design units that fit our client's needs and perform at their maximum potential for each application. To ensure the electrocoagulation system is installed and operated correctly, we work closely with our client's operators through training and commissioning. A remote monitoring support agreement and field service support through our network of local partners worldwide can also potentially be provided.
Our mission is to help our clients succeed in their water treatment goals, and our specialized electrochemistry technology is one of the best tools to do just that.
Interested in how Genesis Water Technologies and our specialized GWT electrocoagulation system could help assist you with your water treatment goals? Give us a call at 1-877-267-3699 or email us at customersupport@genesiswatertech.com for a free initial consultation to discuss your needs and goals.