The GWT Difference: Filtration Systems for Drinking Water & Wastewater Treatment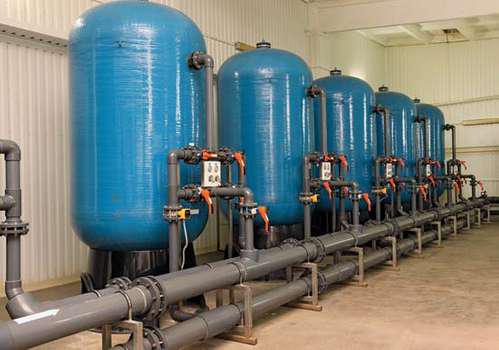 Genesis Water Technologies, Inc. (GWT) wants to see our clients succeed in their efforts to sustainably reduce costs in their drinking water as well as wastewater treatment & reuse efforts. Therefore, when we design our filtration systems, we use the best and most environmentally sustainable methods available. However, there is more to GWT that what we use, it's how we use it.

Below, is a list of the types of filtration technologies that we use in our systems as well as specific benefits that Genesis Water Technologies provides to our municipal and industrial clients to optimally filter their water sources.
Filtration Options:
These are the methods of filtration that GWT utilizes in our filtration systems. GWT research and case case studies prove the usefulness of these methods and they have successfully served our past clients in applications that are still in operation. We use these types of filtration technologies because they are effective and sustainable for drinking water, process water, and wastewater treatment and reuse.
Centrifugal
Self-cleaning centrifugal filtration technology is excellent at separating out solids in high TSS applications. Utilizing the power of centrifugal force, the spinning chamber forces the heavier solids to the outer wall of the chamber and a cylindrical filter with self-cleaning brushes keep excess solids from entering the central clean water outlet stream.
Our anthracite coal filtration media comes the largest and purest reserve in North America that is located in Pennsylvania. Whether it is used as a standalone filter media or as a supplement in a multimedia filter unit, anthracite promotes increased bed penetration and uniform flow. This helps reduce the required frequency of backwashing and lowers head loss in the bed.
Coconut Shell Activated Carbon Media
Activated carbon (AC) in and of itself is continuing to increase in popularity even within residential filtration units. It is highly effective at removing more than just solid matter from water and wastewater. Coconut activated carbon in particular has its own benefits over bituminous coal or wood forms of AC. It has lower levels of inorganic dust and utilizes a much more renewable and environmentally friendly resource for production.
Zeolite Media
GWT Zeolite is an all natural and environmentally friendly filter media that can occur in nature but can also be synthesized to increase purity. Even synthesis of zeolite can be done in a natural way. It has nearly three times the loading capacity of traditional sand filters while also having the added benefit of possessing a capacity for ion exchange. Along with being able to handle higher loads of suspended solids, zeolite can reduce levels of trace metals, ammonia, and hydrocarbons. It also doubles as a water softener.
Membrane
This type of filtration uses a pressure differential to force water through a membrane to separate it from even the smallest of suspended or dissolved particles. GWT utilizes ultra filtration and reverse osmosis desalination in some of our treatment applications, typically in tertiary filtration applications. After proper pre-treatment and followed up with disinfection, these filters can produce high quality drinking water, industrial process water or wastewater reuse for non potable applications.
Conventional
While we promote the use of innovative technologies and processes, sometimes all you need are some of the classics. We make use of screen filters, specialized disc filtration systems for municipal treatment applications. We also utilize cartridge filters, in our filtration systems based on the specific industrial water treatment application.
Custom system design and construction
We have never been the type to simply say what you see is what you get when it comes to our filtration systems. Even if two different clients were to come to us with very similar applications, we would still take the time to look at each client on a individual level to design, engineer and supply a system that is perfectly suited for each.

When you consult with Genesis Water Technologies, we begin our consulting engineeing services from an initial laboratory water analysis and system design recommendations. From these recommendations, each system is also custom built for our clients and installed by our local partners with technical assistance provided from GWT.
Systems designed for optimal treatment
Why do we custom design each and every filtration system? Because one size does not fit all. The best and most efficient water treatment systems are those that are designed according to an in depth analysis of the influent raw water quality and the required treated effluent water quality. We also make sure to optimize for cost and energy savings as well in the effort to implement more sustainable systems across the world.
Whether our clients have a system in place and are looking to retrofit/improve and expand; or they are starting from the ground up. Our systems are designed in a modular fashion to optimized system space footprint. This makes transportation and installation much easier for all parties involved. Plus, with one modular system in place, down the line it's quite easy to add in another to accommodate for changing water quality or increased treated flow rate requirements.
Option for self cleaning filters and automated back washing
Cleaning filters can be time consuming and labor intensive. That's why we offer filtration units that are self cleaning as well as units that are set up with automated back washing controls. Because, keeping your filters clean is key to the longevity of your equipment and optimized operating cost.
Still not sure, if a GWT filtration solution is right for your municipal water treatment or industrial water/wastewater treatment application? Get in touch with the water treatment experts at Genesis Water Technologies at 1-877-267-3699 or reach out to us via email at customersupport@genesiswatertech.com to discuss the specific details of your filtration application.