How has a GWT RO desalination plant ensured governmental agencies with reliable drinking water?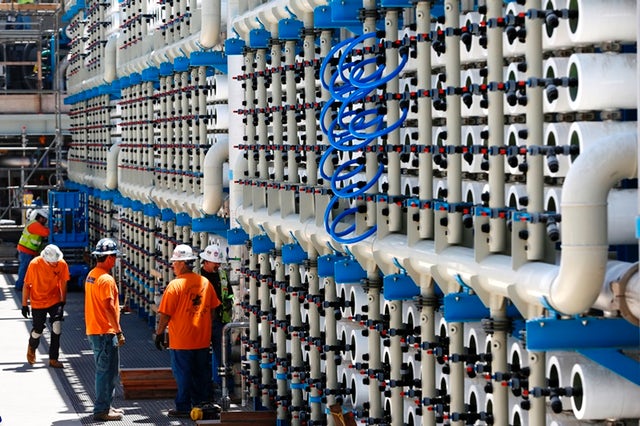 As we have mentioned in some of our previous article on the topic of water scarcity; water scarcity is not the same in different parts of the world. Namely, there are two types of scarcity: physical and economic. 
How has a GWT RO desalination plant helped municipalities to ensure drinking water for its population challenged by water scarcity? We will discuss the answer to this question below. 
Physical scarcity could be vividly illustrated as akin to walking through a desert with no water. There is no water within miles or kilometers in any direction. More realistically, it's a country with few to none of their own surface water or groundwater sources and little annual rainfall. Without receiving this water supply from elsewhere, they would not be able to self sustain the needs of their population. This is happening in northern and southern Africa, a majority of the middle east, parts of northern and southern Asia, the drier parts of Australia, the United States, and Mexico, and small portions in eastern and western South America. Physical scarcity also happens seasonally during drought periods in some places.
In these instances of physical scarcity, is where an RO desalination plant using either a beach well or seawater source can be a suitable solution to ensure that the potable water supply needs of the population are met.
Economic scarcity cannot really be exemplified with a simple anecdote. It is what happens in countries with polluted waterways and no treatment facilities or countries with water sources but no infrastructure. There may be annual floods or droughts that the people have no way to fully prepare for. A lot of this type of scarcity stems from a lack of money and/or a lack of governmental stability or consideration. The majority of economic scarcity is happening in a wide spectrum across central Africa from the western to the eastern coast. It's also seen in northern India, Bangladesh, Vietnam, Laos, Cambodia, and Myanmar in Asia. Most of Central America, Haiti, the Dominican Republic, and certain other Caribbean and South American nations including Peru are also afflicted. In some cases, it happens following catastrophic events like hurricanes, earthquakes, and other natural disasters, or man made disasters like in Flint, Michigan.
We at Genesis Water Technologies provides consulting, engineering/design and innovative treatment technology that can help communities and municipalities dealing with water scarcity. This enables them to provide a reliable source of drinking water for their residents. One particular technology we utilize based on the quality of the source water is RO desalination plant technology.
Seawater Desalination (India/Africa/Philippines)
Ghana, India, and Philippines suffer from economic water scarcity among others in these regions. In each of these countries, Genesis Water Technologies worked hand in hand with our local EPC partners and the governmental agencies within these countries to consult, design, engineer, and build of a RO desalination plant that would supply the specific communities/cities with an additional clean source of drinking water to augment their current supply.
With consideration given to the protection of the surrounding marine environment, GWT designed, engineered and supplied a RO desalination plant. The open intake and outfall system are specifically engineered to drastically reduce any negative effects on marine life through unique intake and brine dispersion methods. This process reduces associated pretreatment costs. The intake seawater is kept in a storage basin until it is sent to a multistage filtration process followed by a GWT specialized reverse osmosis desalination system that utilizes patented DLP series nanofiber prefiltration, seawater membranes and energy recovery. The resulting water is remineralized for taste, disinfected and stored for distribution.
Each system is designed to optimize Capex/Opex costs and to exceed EPA and WHO drinking water standards.
Haiti Humanitarian Kiosks
Haiti is an island country in the Caribbean that is also dealing with economic water scarcity. It is one of a few countries in the world, including Kenya, Zambia, and Tanzania, that frequently use water kiosks that provide clean drinking water to communities. A drinking water provider in Haiti sponsored by a UN funded program was facing issues with the water quality of surface and bore well water for a pilot program of ten kiosks. The potential sources were contaminated with microbial and mineral contamination so the client consulted GWT on a solution to deal with the issue.
An optimal source was picked after analysis of several in the area, it being the one with the least contamination. The goal of the system was to exceed WHO standards regarding the final quality of the water. A number of systems were built for multiple communities and their kiosks. These systems included prefiltration, disinfection, and a special GWT scale prevention system to protect the membranes in the reverse osmosis desalination plant from scaling. Following RO, the water was remineralized and disinfected again prior to tap dispensing. All systems were powered with renewable solar energy.
The systems operated within the specified parameters and the high-quality drinking water is sold to the members of the community through the kiosks. The project was successful enough to make plans to expand it to over 300 other communities across the country.
Are you a governmental organization that struggles with water scarcity, and are looking for an innovative RO desalination plant to provide a reliable drinking water supply to your residents? Reach out to your technical partners at Genesis Water Technologies, Inc. at 1-877-267-3699 or via email at customersupport@genesiswatertech.com for a free initial consultation.
In association with our qualified local construction partners, we have worked with governmental agencies across the world.