Posted On: 2017-05-14 17:21:54
The wastewater treatment industry has been emerging as a lucrative market in the companies worldwide in the past few years. The large gap between the generation and the water treatment of sewerage is the prime reason for this growth, which has encouraged several companies to plan a wastewater processing system in this sector.
The treatment facilities in most of the underdeveloped countries are inadequate and it is believed that even those facilities that are there who remain distressed with operation and maintenance issues. Several professionals and reports, some commissioned by the Government bodies, have called for a complete service and renovation of each country's wastewater treatment facilities.
In fact, public-private partnerships (PPPs) are being encouraged lately in this division that will take care of all the problems low demand and low willingness to pay for the treated wastewater. Captive sourcing projects would also become more frequent in years to come. It is expected that there would be a rise in investment in this sector, soon as an enabling and more hygienic environment gets developed and investors of every aspect get into this business.
Importance of Meat Wastewater Treatment
With the sudden increase in poultry processing rates, there has been a corresponding increase in the wastewater pollutant concentrations. Instead of all the mechanical improvements in wastewater treatment, there are many poultry procedures that continue to pay high prices for municipal water discharges every year. Genesis water technologies has set up a patented, state of –the-art processing system for its poultry wastewater treatment.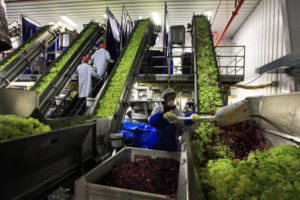 Meat processing wastewater is an activity that uses relatively high water as similar to many food processing industries. It is quite similar to a poultry processor to generate 850,000 to 1,550,000 gallons of wastewater daily.
The charges of treating wastewater from paultry-processing plants and municipalities are simulated together for joint treatment and separate facilities.
The potential savings from joint treatment are enough to pay for the poultry processing wastes to a municipal treatment plant.
The environmental aspect is also an important reason for the development of this industry sector. Most of the metro cities and states as well across the world are now imposing strict rules than before as the chance of not going so becomes quite high. In the absence of meat processing wastewater facilities in a state, several places have seen deterioration in local water sources that also includes rivers and lakes.
With the help of treated water, people can use it to wash cars at malls, flushing toilets, street cleaning, firefighting, watering plants, etc.